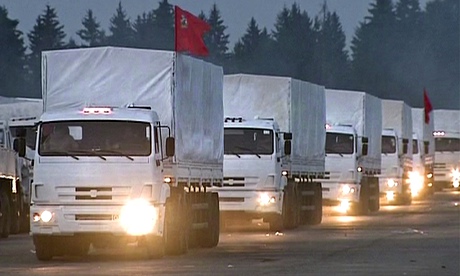 A Ukrainian security spokesman has said that a
humanitarian convoy Russia has dispatched to eastern Ukraine
will not be admitted into the country.
Andriy Lysenko, a spokesman for
Ukraine
's national security and defence council, said the convoy had not been certified by the
International Committee of the Red Cross (ICRC)
.
A convoy of 280 Russian trucks headed for Ukraine early on Tuesday, a day after agreement was reached on an international humanitarian relief mission.
But the ICRC, which was due to coordinate the operation, said it had no information on what the trucks were carrying or where they were going. That has raised fears in Ukraine and the west, where leaders have voiced concerns that
Russia
could use the initiative as a pretext for sending troops into separatist-held territory.
An aide to the Ukrainian president, Petro Poroshenko, said Kiev would require the ICRC to reload the aid onto other transport vehicles at the border if it was to enter. "We will not allow any escort by the emergencies ministry of Russia or by the military. Everything will be under the control of the Ukrainian side," Valery Chaly said.
Earlier on Tuesday, the Itar-Tass news agency said the convoy has departed from near Moscow, meaning it would take it a couple of days to arrive in east Ukraine, about 620 miles (1,000km) to the south-west. "It has all been agreed with Ukraine," Business FM radio quoted President Vladimir Putin's spokesman, Dmitry Peskov, as saying.
Thousands of people are said to be short of water, electricity and medical aid because of the fighting
theguardian