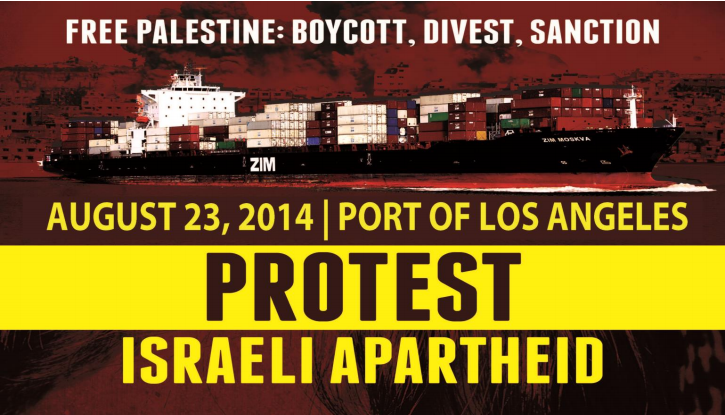 The Israeli owned ship Zim Haifa arrived in Southern California early this morning (Saturday, August 23).
The ship was scheduled to be unloaded today at Pier A of the Port of Long Beach.
Over 250 people from throughout Southern California took part in the Community Picket at the entrance to the Pier called by the Block The Boat - LA Coalition. We were there to show strong community support for the recent call by the Palestinian General Federation of Trade Unions (PGFTU) and the Congress of South African Trade Unions (COSATU) asking workers around the world to stand in solidarity with Palestinian workers, particularly those in Gaza who have been targeted so brutally by Israel over the last month, by refusing to handle Israeli goods. We were asking Dock Workers from the International Longshoremen and Warehouse Union (ILWU) to stand in solidarity with their Palestinian sisters and brothers and refuse to unload the Zim Haifa.
The picket started at 6:00am and was very colorful and boisterous from the beginning. At around 8:00am port workers began to leave and shortly it became clear that the day shift had been called off, meaning that the Zim Haifa would not be unloaded today. Our actions today have sent a clear message that the people of Los Angeles and the surrounding counties will not stand for companies that profit from apartheid, colonialism and occupation to do business here!
The Block the Boat – LA would like to thank first and foremost the Palestinian people whose resiliency and strength through more than 60 years of brutal Israeli apartheid and occupation inspired us to take action today. Thanks also to the members of Local 13 of the International Longshore and Warehouse Union, our West coast allies from Block the Boat - Oakland and Block the Boat – Tacoma and of course, we want to thank the hundreds of community members who stood strong and sent a clear message to Zim shipping and Israel that they are not welcome in Los Angeles! As South African apartheid fell, Zionism and Israeli apartheid will fall.
Block the Boat – LA Coalition
BDSinLA@gmail.com
@BDSinLA
Coalition Members: BDS-LA for Justice in Palestine American Muslims for Palestine US Palestinian Community Network International Jewish Anti-Zionist Network - Labor Global Women's Strike Jewish Voice for Peace – Los Angeles Al-Awda (The Palestine Right to Return Coalition) ANSWER