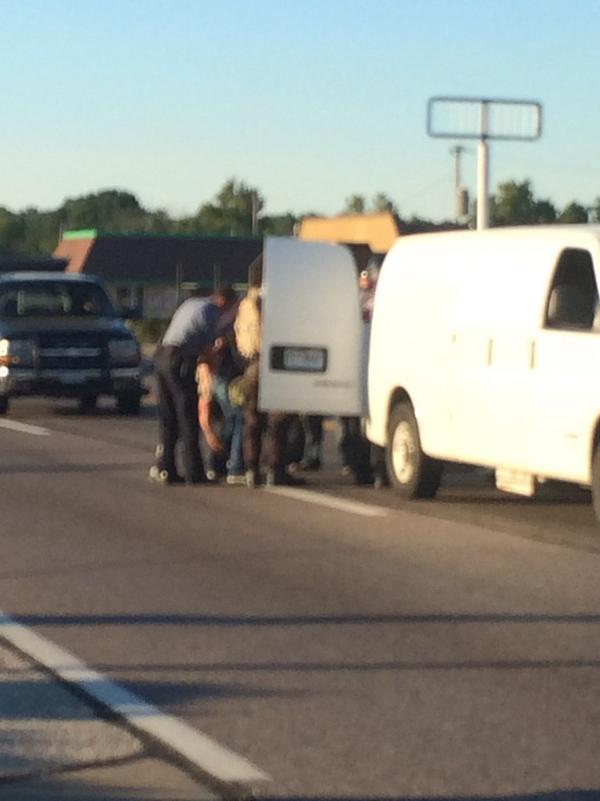 Photo of reporter I believe to be @ryanjreilly being cuffed and put in a police van minutes ago in #Ferguson pic.twitter.com/l6olRUPk13

A few feet from where

#

MichaelBrown

was killed:

#

Ferguson

Apparently, in America, in 2014, police can manhandle you, take you into custody, put you in cell & then open the door like it didn't happen

It's as if the arrest and the assaults never took place. Just opened the doors and let is out as if we'd let it go

"The chief thought he was doing you a favor" - police officer tells me about release. With no charges, no police report

I'm emotional, but need to note: Ryan and I are fine. Have seen people in Ferguson hurt by gas/rubber bullets. This wasn't that

Got no explaination at any point why in custody other than "trespassing" - at a mcdonalds where we were customers

Detained, booked, given answers to no questions. Then just let out

"I'm dying. I'm dying. Please call help he screamed." They mocked him

They refused his several calls for paramedics

Was waiting to be taken away, large black man SCREAMING for help in back of police truck

Officers slammed me into a fountain soda machine because I was confused about which door they were asking me to walk out of

Refusing to give us any names of the officers

Released without any charges, no paperwork whatsoever

Officers decided we weren't leaving McDonalds quickly enough, shouldn't have been taping them.

Also Ryan Reilly of Huff Po. Assaulted and arrested

"We cannot guarantee your safety. We will not be answering 911 calls"